RED DEVILS fans have largely welcomed Sir Jim Ratcliffe's declaration he is looking at launching a takeover bid of the club, although some supporters have questioned whether the British billionaire could take the club forward.
Sir Jim, the 70-year-old founder and boss of chemical giant Ineos, has confirmed he is looking to buy United outright, having failed with a bid to buy Chelsea last May.
The lifelong United fan, who is Britain's richest man with an estimated net worth of £13.3billion, would likely have to cough up around £5billion to take the club out of the hands of owners Avram and Joel Glazer.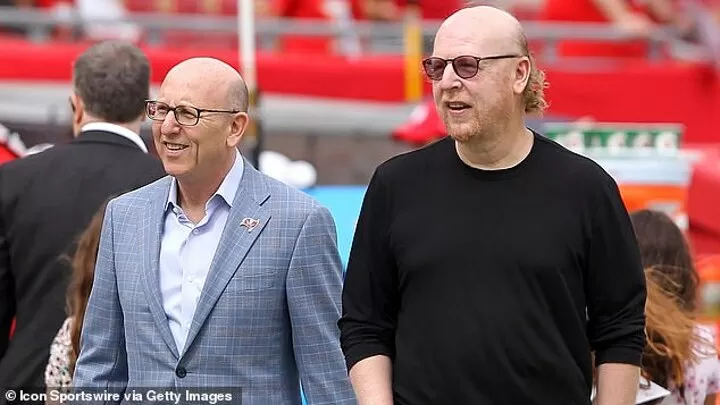 United fans have largely reacted positively to Sir Jim's confirmed interest, which has the potential to see the hated Glazer's leave the club.
'Going from the Glazers who literally are the worst owners in football history to getting Sir Jim Ratcliffe, a billionaire boyhood United supporter, is the poetic justice MUFC deserves,' one supporter tweeted.
'Sir Jim Ratcliffe would be the ideal new owner of Manchester United for me,' another said. 'At least we'd be English owned and owned by an actual supporter of the club. Best case scenario for us.'



'Sir Jim Ratcliffe or Middle Eastern owners are the final piece to make Manchester United a Football Club Again,' tweeted another.
Sir Jim currently owns two clubs, with the tycoon having bought French side Nice for £91m in 2019 two years after purchasing Swiss team FC Lausanne-Sport.
Some United fans have urged caution over the billionaire's potential arrival despite being a supporter of the club, pointing to Nice currently lying 10th in the Ligue 1 table.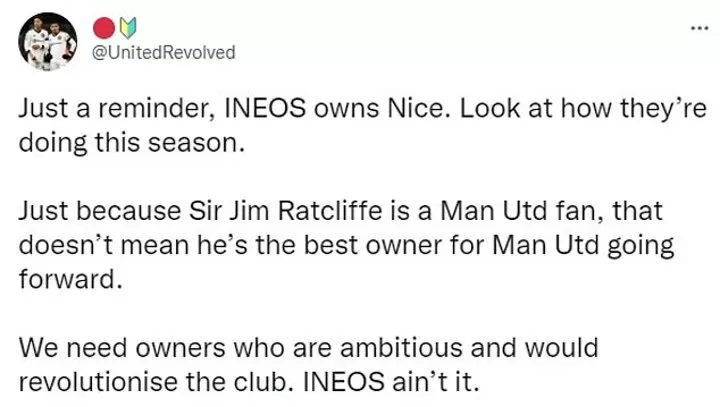 'Just a reminder, INEOS owns Nice. Look at how they're doing this season,' one fan commented. Just because Sir Jim Ratcliffe is a Man Utd fan, that doesn't mean he's the best owner for Man Utd going forward.
'We need owners who are ambitious and would revolutionise the club. INEOS ain't it.'
Another fan urged caution with the process at an early stage, commenting 'Does he stand a chance, is the question.'
Sir Jim is expected to face rival interest from the United States, Asia and the Middle East, after after the Glazer family revealed their willingness to sell United following 17 years in power at Old Trafford.