The sight of Adam Lallana falling into the arms of the newly-installed Reds boss during the start of the new era at Tottenham Hotspur back in October 2015 has since regularly been regarded as a reflection of the bond Klopp has with his players.
Often forgotten, though, is just why the midfielder so readily welcomed the embrace. He was absolutely shattered.
Lallana was an early enthusiast of the 'gegenpressing' approach introduced by Klopp during his first few seasons that was subsequently honed and refined to help Liverpool conquer England, Europe and the world.
But as the 34-year-old prepares for the latest reunion with his former club when Liverpool travel to Brighton and Hove Albion in the Premier League on Saturday, serious questions are being asked about the Reds' famed identity of intensity.
Certainly, little of that has been apparent in recent outings, with a fortunate win over Leicester City followed by dismal defeat at Brentford and even greater luck to scrape an FA Cup third round draw at home to Wolverhampton Wanderers on Saturday evening.
The statistics are revealing. In terms of PPDA – passes allowed per defensive action – Liverpool last season allowed an average of only 9.9 per game, the best in the Premier League. Such high turnovers led to Liverpool having 71 shots and scoring seven goals. This season, the figure has gone out to 12.2 per game, meaning only one goal has been scored as a result of such actions with just 18 shots. They stand seventh in the rankings.
Among the teams above them are three ahead of them in the Premier League table – Newcastle United, Arsenal and Manchester City – along with Brighton, who can go above Liverpool with victory at the weekend.
So, what is going wrong?
As is often the case, it is a combination of factors rather than just one easily solvable issue. Klopp last week dismissed claims it was purely a midfield problem – instead hinting at a general concern – which he developed further in the immediate aftermath of his team's alarming display against Wolves.
"In the whole game we didn't win enough challenges, to be honest," said the Reds boss. "They (Wolves) win a challenge and all of a sudden we are completely open, how is that possible? We have two or three players in a challenge, moving toward the ball. When you are there, you have to win the ball, if you don't do that and they get out, it looks like 'eh, where are they?'.
"Whoever you play, you have to win challenges. It's something I already mentioned in the dressing room and I will mention it again."
Pressing means little if you don't win the ball back, instead becoming running for running's sake. Players won't always regain possession, but the rate at which Liverpool are failing has clearly been noted.
Part of the issue comes from the reshaping of the attack following the departure of Sadio Mane. Defending starts from the front and Liverpool's forward line isn't doing enough. Darwin Nunez's adaptation is being complicated by the general malaise, but it's unlikely he will ever harass defenders quite like Mane. He wasn't bought for that. And Mohamed Salah has always been intermittent with his pressing, again on the premise that he is of far greater benefit going in the opposite direction.
What has truly hampered Liverpool up front, though, is the absence of their three pressing linchpins. Luis Diaz and Diogo Jota remain sidelined with long-term injuries, while Roberto Firmino hasn't been seen since the restart of the season. Cody Gakpo can help, but Klopp won't want to place too much too soon on the new signing's shoulders.
All of this has served to expose the mobility and lack of consistent form of Fabinho and Jordan Henderson, and the inexperience in midfield of Harvey Elliott. And that in turn has compromised the natural game of Thiago Alcantara. Klopp has even been denied the cameos of James Milner due to injury, the veteran's experience often valuable in short bursts.
The knock-on effect continues into the defence, where Virgil van Dijk is now absent for at least a month. Ibrahima Konate and Joel Matip were kept far too busy against Wolves, and will be braced for a similar afternoon at Brighton given the Seagulls are far nearer Liverpool's ideal model than the Reds themselves presently – pressing hard, keeping possession and playing through opponents.
Lallana knows how devastating the Reds can be when they click. "It will be an extremely tough game, regardless of the results they have had lately or whatever they have shown they are in a good moment," he says. "They have such strong players but we want to test ourselves against the world's best."
Liverpool, though, aren't anywhere near that standard right now. And it's become more than just a pressing concern for Klopp.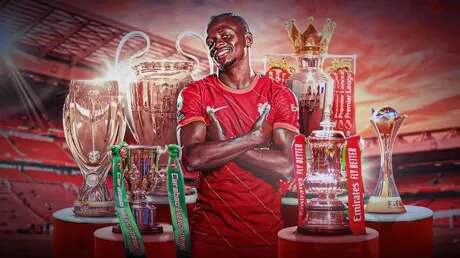 Liverpool misses Sadio Mané the most, since his absence from the club they have been a likecage at the front line-up, the Senegalese has been a great players and he has been a super contributor to the success of his new club bayern munich