Still basking in the spotlight with the success of Billion Dollar Baby 2.0, Seyi Vibez drops a new project title, "Memory Card" EP. While rooted in Afrobeats, singer-songwriter Seyi Vibez folds elements of hip-hop and indigenous African rhythms into his vibrant sound.
For his third project (Billion Dollar Baby), Nigerian singer Seyi Vibez places his ambitions front and centre, and the album's 16 tracks serve as a prophetic manifestation of his next big goal. Along with representing his homeland, the Ikorodu-bred artist incorporates cross-continental sounds throughout Billion Dollar Baby. A lot of songs on the album have a mixture of some amapiano, pop and Afrobeats. So, it's Afro-soul.
Informed by his own experiences and inspired by life on the streets of Ikorodu, he injects gripping messages throughout his new EP- "MemoryCard" which is a follow up EP to his debutEP NSNV ("No Seyi, No Vibez") and a follow up project to his debut album BDB (Billion Dollar Baby).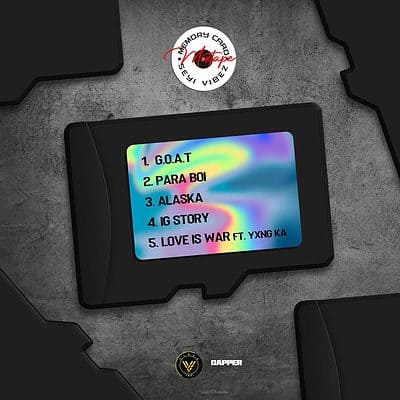 Memory Card EP consist of 5 new songs namely; "G.OA.T", "Para Boi", "Alaska", "Ig Story", "Love Is War" and features YXNG K.A. This EP is a special project for Seyi Vibez's fans, Download, Listen and Enjoy below